For the past couple of weeks the papers presented at a club I belong to, The Monday Afternoon Club, have had the common category of Literary Movements. The purpose of the club, founded in 1887, is "the encouragement of culture among women."
Under the Literary Movements category members have given papers on writers of the Southern Agrarians (of which Robert Penn Warren was one); a literary history of New Orleans; and, poets of the Harlem Renaissance (Langston Hughes and Countee Cullen).
Yesterday, the presentation concerned three Kentucky women writers: Caroline Gordon, Harriette Arnow, and Bobbie Ann Mason.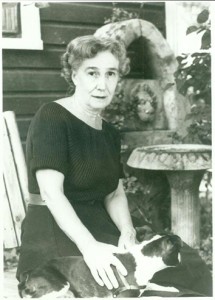 Caroline Gordon
Most Informative:
Caroline Gordon (1895-1981) lived in Western Kentucky and was an award-winning writer and renowned hostess who entertained such luminaries as Robert Penn Warren, William Faulkner, Ernest Hemingway, and Ford Maddox Ford. Maxwell Perkins was her editor.
She was married (twice) to Allen Tate, one of the Southern Agrarian poets.
Her novel Penhally (1931) painted a portrait of the eponymous plantation, the family life, manners, and folkways of the Southern upper-middle class. In Women on the Porch (1944) she wrote about the way of life for Southern women including 'the help.'
I had not heard of Ms. Gordon before but the two books mentioned (she wrote fifteen) sound fascinating.
Harriette Arnow
Most Touching:
Harriette Arnow's The Dollmaker (1954), is the story of Gertie Nevels, a woman from the Kentucky hills who, with her five children, follows her husband to Detroit after he finds work in a factory during World War II. The book was made into a television movie in 1984 starring Jane Fonda who won an Emmy for her performance as Gertie.
Ms. Arnow was born in southern Kentucky in 1908. She attended Berea College for two years and then transferred to the University of Louisville. She worked as a teacher and for the Federal Writer's Project of the WPA. She died on her farm in Michigan in 1986.
Bobbie Ann Mason
Most Entertaining:
Bobbie Ann Mason (born 1940) grew up on her family's dairy farm in Western Kentucky. She majored in English at the University of Kentucky and moved to New York where she wrote for magazines about teen stars of the sixties. She is known for her novels and short stories including In Country (1985), Shiloh and Other Stories (1982), and pieces in The New Yorker and on the op-ed page of The New York Times.
I met Ms. Mason at the Kentucky Book Fair last November and had her sign a copy of her biography of Elvis Presley (which I have started and to my chagrin have still not finished).
So there you have it. A very enjoyable program about three of Kentucky's writers. And, a few more books for my TBR list.