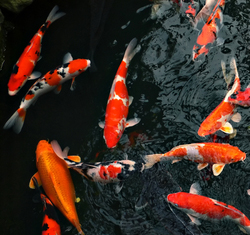 Goldfish pond
You might be wondering if I will ever stop swooning over Beverley Nichols. Well, probably not soon.
So far in Down the Garden Path, Mr. Nichols's adventure in the garden of his thatched cottage in Allways, England, I have learned how to build a rockery and what plants to use to create cascades of color. And, if I ever feel up to having a pond dug in my yard, I know just how to fill it with twelve goldfish that will create little black fish and soon I will have an entire pool shimmering with gold.
Not that I am apt to add either rocks or fish to my garden, but the knowledge of how to do both creates nice tidbits of conversation.
Mr. Nichols's neighbors in this undertaking are not quite as friendly and kind as the ones he inherited with Merry Hall. Most of them seem to irritate him which makes for some dazzling dialogue and internal harrumphing.
I have even gotten to meet his parents. His father was apparently quite a knowledgeable gardener and has ample opportunities to pass on bits of fatherly wisdom to his more novice son. It was his father who discovered the grape vine almost smothered by briers, jasmine, and ivy. Within a year, Mr. Nichols was enjoying luscious purple grapes from the rescued vine.
Another totally unexpected garden delight.