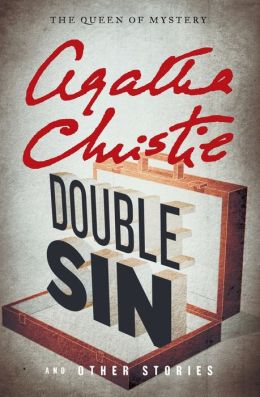 I am making excellent headway in my weekend reading. Finished up the eight stories in Agatha Christie's Double Sin. Six of them feature either Miss Marple or Hercule Poirot. Two of the stories are ghost stories or supernatural tales, which I didn't really care for. One had to do with a doll that moved around the sitting room of a seamstress shop and the other was a story about a medium and her last séance.
Ms. Christie's forte is her mysteries, that is for sure.
The title story, "Double Sin", has Hastings and M. Poirot off to visit a friend on the north Devon coast. On the journey they meet a young woman who is not as innocent as she appears. She and her aunt, who runs a small antiques shop, have double dipping (or double clipping) in mind for their client. Ah, but M. Poirot is not to be fooled.
Although Dame Agatha's writing if pretty straight forward, occasionally she delights with such flights of fancy as the following paragraph from "The Double Clue" about the disappearance of precious jewels:
But we were destined to have a reminder of the Hardman case that afternoon. Without the least warning the door flew open, and a whirlwind in human form invaded our privacy, bringing with her a swirl of sables (it was as cold as only an English June day can be) and a hat rampant with slaughtered ospreys. Countess Vera Rossakoff was a somewhat disturbing personality.
And this funny little sentence spoken by you-know-who:
I am sorry to hurry you but I am keeping a taxi -- in case it should be necessary for me to go to Scotland Yard; and we Belgians, madame, we practice the thrift.
Can you not just hear David Suchet touching his moustaches and quoting that line in his clipped accent?