A new supply of writing papers.
One of the nice things about my plan to write a letter or note each day in February, the Letter a Day Month, is that I have used up quite a bit of my stationery. Oh boy. That means I get to go shopping. Next to a bookstore, a stationery store is my favorite place to be.
Here is what I picked up today at a shop called Paper Source: note cards with cheerful birds and a box of more sedate correspondence papers from Crane.
I love the eggs on the envelope liner of the note cards.
The shop had lots of paper items to choose from but I kept my eye on the goal of note cards and writing paper.
I have noticed that sometimes stationery manufacturers do too much for us by cluttering up writing papers, flat note cards, and specialty cards with garish designs leaving very little room to write our own news, sentiments, or thoughts. And I don't need a pre-printed thank you, birthday, or sympathy card. I can come up with my own heartfelt words, thank you very much.
That is why it is important for me to have a varied supply of stationery to suit every occasion. And a good fountain pen.
Yesterday, in the United Kingdom, Jane Austen stamps went on sale in honor of the 200th anniversary of Pride and Prejudice. I checked the U.S. Postal Service site and see that in America we have stamps available that honor authors O. Henry, Edgar Rice Burroughs, and ten 20th century poets from Elizabeth Bishop to William Carlos Williams.
Alas, no Jane Austen.
Here is what Ms. Austen had to say about letter writing:
Everyone allows that the talent of writing agreeable letters is particularly female.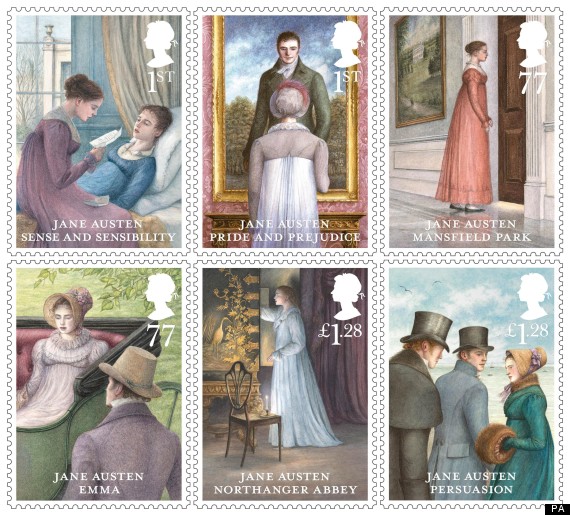 Royal Mail's Jane Austen stamps