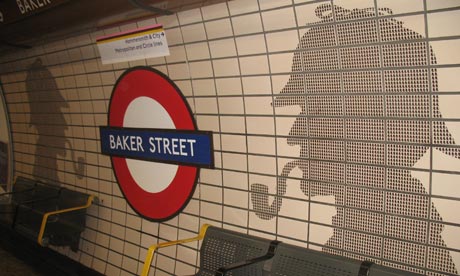 This is a brief musing on the recently read The Baker Street Letters by Michael Robertson.
The plot revolves around brothers, Nigel and Reggie, both London solicitors, who happen to have offices on Baker Street. Part of the lease agreement requires that letters written to that most famous resident of 221b Baker Street, Sherlock Holmes, be answered. A form letter will suffice. But Nigel finds one written two decades earlier by an 8-year-old girl asking for Mr. Holmes's help in finding her father. And then there are two more recent follow-up letters.
Against the terms of the lease which state that under no circumstances is personal contact to be made with any letter writer, Nigel, the looser cannon of the two brothers, heads to Los Angeles to see what he can find out about this lady in distress. In the meantime, a body is found in Nigel's office, and off goes brother Reggie to L.A. to find Nigel.
I was thinking the mystery was going to take place in London, but if it had to be somewhere else at least it was in a location I knew about. The murders and the mystery all boil down to money, of course. There is a nice twist at the end and the futures of the two brothers are left up in the air. Nigel opts to stay in the U.S. while Reggie goes dutifully back to Baker Street.
Because I am familiar with the places and street names in the area of L.A. that the brothers found themselves (Reggie checks into the lovely Bonaventure Hotel) it made for a fun read. There were a few holes - would a cab driver wait for 20 minutes while Reggie finds a dead body and runs through the park chased by joggers who think he is the murderer? Would someone who suffered serious injuries in an explosion, be able to get out of his hospital bed and wander freely about the hospital?
Oh, well, that's why it is called crime fiction.
One annoying bit: no one in the story ever left a room or a car or a restaurant - they exited.
There is another character, Laura the actress, who is Reggie's girlfriend only she used to be Nigel's. She also winds up in L.A. and is on the case with Reggie. She seems to have more sense than both of the men put together. (No surprise there!)
There is a second book in the series, The Brothers of Baker Street. It appears that the action in this one takes place in London. I have added it to my reserve list at the library. I will be interested to see in what sticky wicket the brothers find themselves this time.