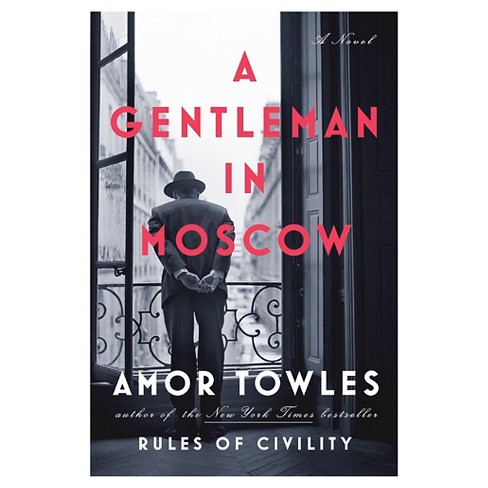 I have been reading, reading, reading A Gentleman in Moscow by Amor Towles. Although it is quite long (a little shy of 500 pages), it is definitely engaging.
Our story begins in 1922 and spans several decades.
Count Alexander Ilyich Rostov has been put under house arrest and is confined to the elegant Metropol Hotel in Moscow after the Russian Revolution.
Scenes of hilarity and heartbreak are interspersed with bits of history, literature, and philosophical musings.
I can recommend this as the perfect book to enjoy during the long, cold nights ahead.
Take your time getting to know the Count and his genteel ways. Although his circumstances are not ideal, he continues to behave as an aristocratic gentleman would and finds ways to keep up his spirits. He makes new friends and enjoys visits from old ones. He finds romance. He enjoys champagne, good food, and music. He resorts to a bit of spying and thievery — all to a good end. And he has these adventures without ever leaving the hotel.
A short ABC of a few of the subjects that arise in the course of the Count's days and nights: Architecture; Bees; Catch a loose goose (how to); Dress Balls; Essays of Montaigne, Facial Hair; Gogol; Heroes; Intimacy; Jazz; Kindness; Lessons; Money (hidden); Nutcracker, The; Oranges; Poetry; Quests; Reading; Symphony Orchestras; Time (passage of); Uprisings; Vindication; Weather; Xenophiles; Youth; and, a game the Count devised, Zut.
You get the point. There are many more ideas to keep one turning the pages.
The story also offers a fascinating look at the harshness of communism after the Bolsheviks take over. It's not pretty.
Reading this tale put me in mind of two things. One, this quote from Franz Kafka:
You do no
t need to leave your room. Remain sitting at your table and listen. Do not even listen, simply wait, be quiet, still and solitary. The world will freely offer itself to you to be unmasked, it has no choice, it will roll in ecstasy at your feet.
The other is the Canadian television series Endgame about a world famous Russian chess player who, traumatized from witnessing the murder of his fiancée just outside their hotel, cannot bring himself to leave the premises. He is brilliant and takes to solving mysteries without ever stepping onto the sidewalk. Endgame only lasted one season, which is a shame as it was witty and kept me guessing.
A Gentleman in Moscow is one of those books that you find intriguing while reading it, and afterwards, looking at it as a whole, you come to fully appreciate its richness and depth.
Since one of my literary sins (here) is not having read any of the Great Russian Novelists, I feel that this story of the Count could count.