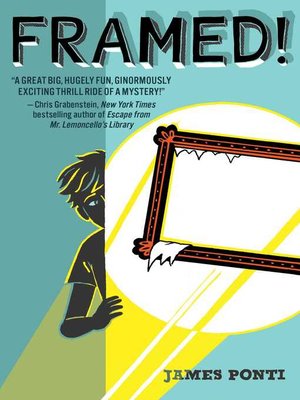 Framed! by James Ponti is the perfect read-in-bed story and a welcome relief from the cares of the world. It offers intrigue, art thievery, the FBI, a look into foreign embassy protocol, and just a tinge of middle-school angst.
The tale stars 12-year-old Florian Bates and his new friend Margaret. It's summer and Florian and his family have just moved to Washington DC after living in Italy for eight years. He is definitely the new kid on the block. His mom is an art conservator at the National Gallery and his father designs security systems.
When three Impressionist works of art worth sixty-five million dollars disappear one night from the National Gallery, Florian uses his system of TOAST - Theory of All Small Things - to help solve the theft. He is like a young Sherlock Holmes. Florian looks at the tiny details, an accumulation of which lead to bigger truths. He uses the theory not only to solve the art theft but for daily guidance as well. It's fun to read his observations of tiny details and how he reaches bigger conclusions.
Florian was on the scene the night of the theft with his dad who had been called in to check the security systems. Based on Florian's
observations, Agent Marcus Rivers of the FBI was able to recover the paintings within a few hours. Then a fourth masterpiece is discovered to have been stolen and a forgery left hanging in its place. Another crime to solve.
Agent Rivers is quite impressed with Florian and decides to use him as an FBI 'covert asset'. Florian even gets a trip to Quantico, the FBI training center, where he learns a few defensive moves and what to do if he is ever kidnapped. (He wishes he had paid more attention to that last bit.)
What 12-year-old wouldn't want to be in the FBI? Heck, I want to be in the FBI!
His friend Margaret caught on quickly when Florian explained TOAST and together they figure out who the mastermind is behind the thefts and the forgery. They create their own headquarters named The Underground and Margaret tags their crime-fighting organization FBI - Florian Bates Investigations.
This is such an entertaining read. It
is witty and exciting and the two friends are kind and loyal to each other.
The kids are smart, the adults believe in the kids' abilities, and the reader gets a small look into the ways of the FBI. All in all, a terrific story.
Best news yet. There is a second book, Vanished!, in which Florian and Margaret go undercover at a private school where the U.S. President's daughter is a student. It's already on my reserve list at the library.